MANCHESTER BEE
During our stay in Manchester we saw a lot of those bees. Firstly, we thought it could be a synonym for "be in Manchester", but later we found out that it is an anaphora for the people in Manchester. They should be reminded to be busy and diligent, like a bee.
On Saturday we went to the Science and Industry Museum of Manchester to get an impression of the city's industrial history. When we arrived there, we saw the bee again and there was a short inscription:
Manchester's bees of industry, the city's history
 In 1758, Manchester had one main street and a population of fewer than 20,000; by 1831, 140,000 people lived here: just one generation later and the population had swelled to c. 400,000. The reason? Cotton! Cotton became fashionable. Manchester had all the right qualities to supply the demand: an entrepreneurial spirit, new steam technologies, salt from Cheshire, coal nearby and soft water that was best for bleaching. Almost overnight, Manchester became Cotton bolls – a city that moved to the beat of the loom, the world's first industrial city.
Manchester's emblem is the worker bee, a symbol of its industry. You'll find the motif everywhere – in the city's coat of arms, on its buildings, on its bins.
(Michelle Falkensteiner, 6A)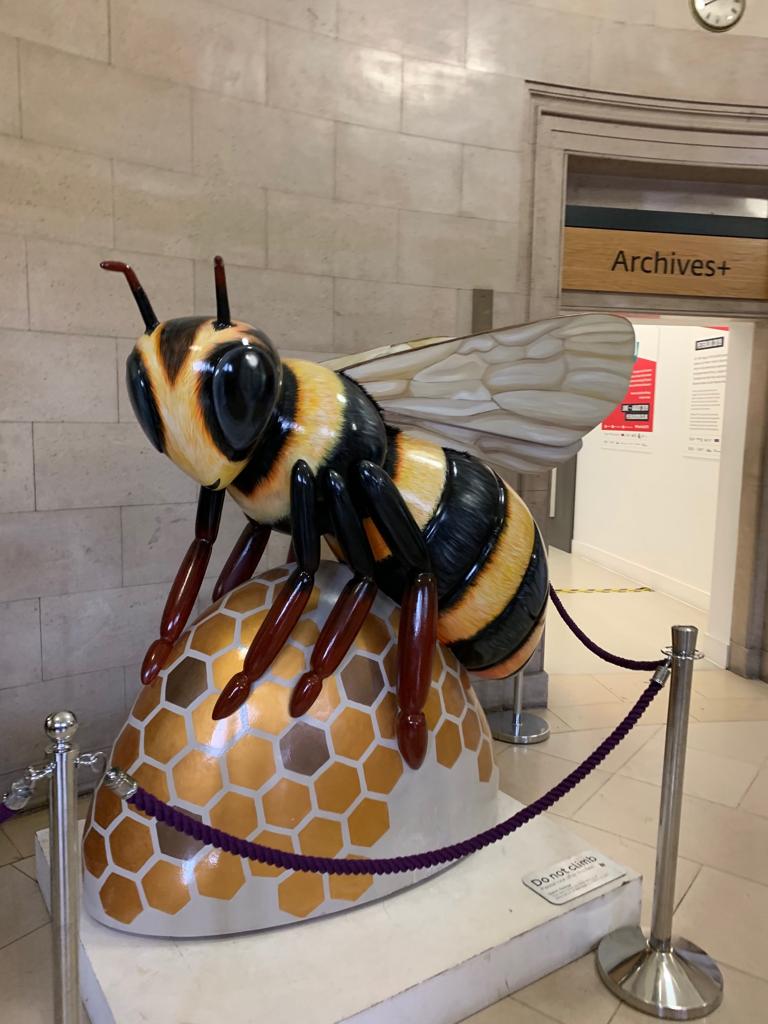 Ulverston Victoria Highschool
From the total of seven days spent in England, our class attended the Ulverston Victoria Highschool for five days. Every student had his/her own buddy whose duty it was to show us the school and give us an impression of the English school life. One complete difference to our school was the school uniform everybody had to wear. Apart from that, we also improved our language by talking to students and teachers there every day. Normally we were at school and attended the courses, but one day we hiked up the Hoad Hill in Ulverston, saw the Hoad Monument and enjoyed the great view. After that our buddies showed us the town of Ulverston while we were on a treasure hunt together. All in all, it was very exciting to meet new people and get an impression of an English school from inside.
(Carla Grimmeisern, 6A)
Language Week in North England
13th – 23rd September
Language exchange programmes are getting more and more popular. They are a great chance for young students to make new friends, improve their language and experience a different culture. Our class, 6A, was very much looking forward to this opportunity.
For this reason, we were really excited when we started out on 13th September. We thought the flight would already be entertaining because we had never been to another country together as a class before. And that was the case, the flight from Salzburg to Manchester was fun and fascinating.
We spent the weekend in Manchester, went for a discovery walk, visited the Science and Industry Museum and the Manchester City Stadium. We even met Pat. J  Yes, we really had a great time! However, we had been a little bit nervous about the English food and were quite surprised to find out that most of it actually tasted good! The English restaurants did not offer salad or a wide selection of vegetables though. Each dish was served with fries instead. Nevertheless, these were always tasty.
On Sunday we left Manchester for the Lake District. As soon as we arrived there, we went up Orrest Head and enjoyed the view from there.  Later we visited Keswick, went for a walk along the lake there and did some window shopping. Furthermore we saw some wonderful meres and fells while we were driving to Barrow-in-Furness, where we would stay for the rest of the week.
Monday was our first day at the Ulverston Victoria Highschool. We went there by train. Everyone was very thrilled about meeting our buddies and experiencing English school life. First, we got an Austrian visitor pass. Then the buddies and their teacher arrived. We went to the Cloister, a part of the school campus, where the teacher assigned us each an English student. A few minutes later, we went out to the school grounds and got to know our buddies better. We all liked them from the first minute. They had approximately the same interests like us. Afterwards we went to class with our buddies every day and we also had lunch with them in the school cantine. We went to school from Monday to Thursday and on one day had fun going on a treasure hunt in Ulverston together with our English friends. The tour even took us up to the Hoad, a monument on a hill behind the town with a fabulous view.
All in all, we enjoyed the whole trip. Every day was special, however, there were two days we all liked most: the first one was Saturday in Manchester with its shops. There were many we did not know from Salzburg. The second one was obviously the first day of school, meeting our buddies. In fact, we all learned a lot and it was a really great experience!
(Lena Maierbrugger, 6A)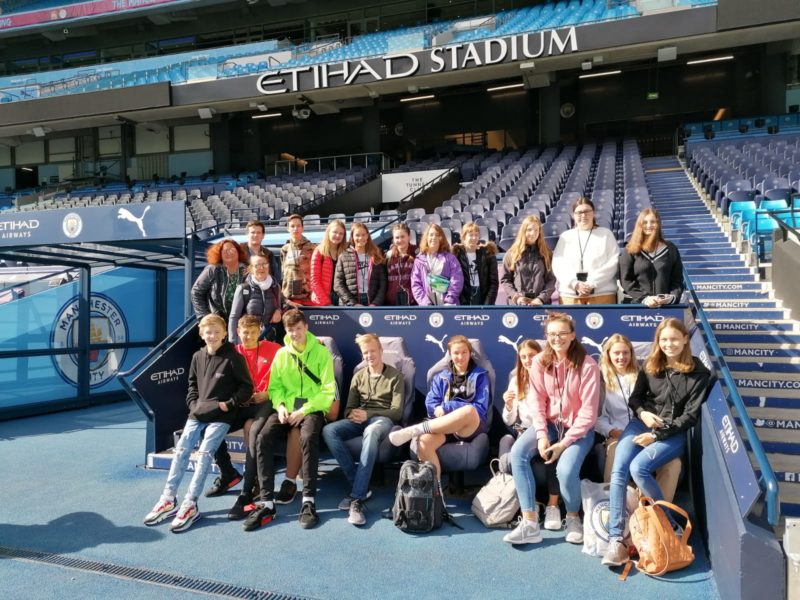 Orrest Head
On Sunday we hiked to the summit of Orrest Head. It is a mountain in the Lake District which is approximately 238 meters high. On the top we had a wonderful view over lake Windermere because of the wonderful weather. We even saw Scafell Pike, the highest mountain in the Lake District. Although Scafell Pike is not that high, it would have been a challenge for us to climb it. We were happy where we were , on toop of Orrest Head, and enjoyed the wonderful view of the 987 meters high hill! It was fantastic and we could have stayed the whole day.
(Simone Fuchs, 6A)